There are currently no events
2019 Incidents
January
66
February
48
March
60
April
65
May
35
June
July
August
September
October
November
December
Total
274
Past Incidents
2018
733
2017
654
2016
751
2015
700
2014
601
2013
659
2012
676
2011
719
2010
617
2009
603
2008
620
2007
633
2006
564
Web Counters
Website Visitors
Since
February 21, 2013

Visitors Today
Jul 21, 2019

National Weather Service Alerts for St. Mary's County, MD
Welcome to the Official Site of the Leonardtown Volunteer Fire Department
Papa John's Fundraiser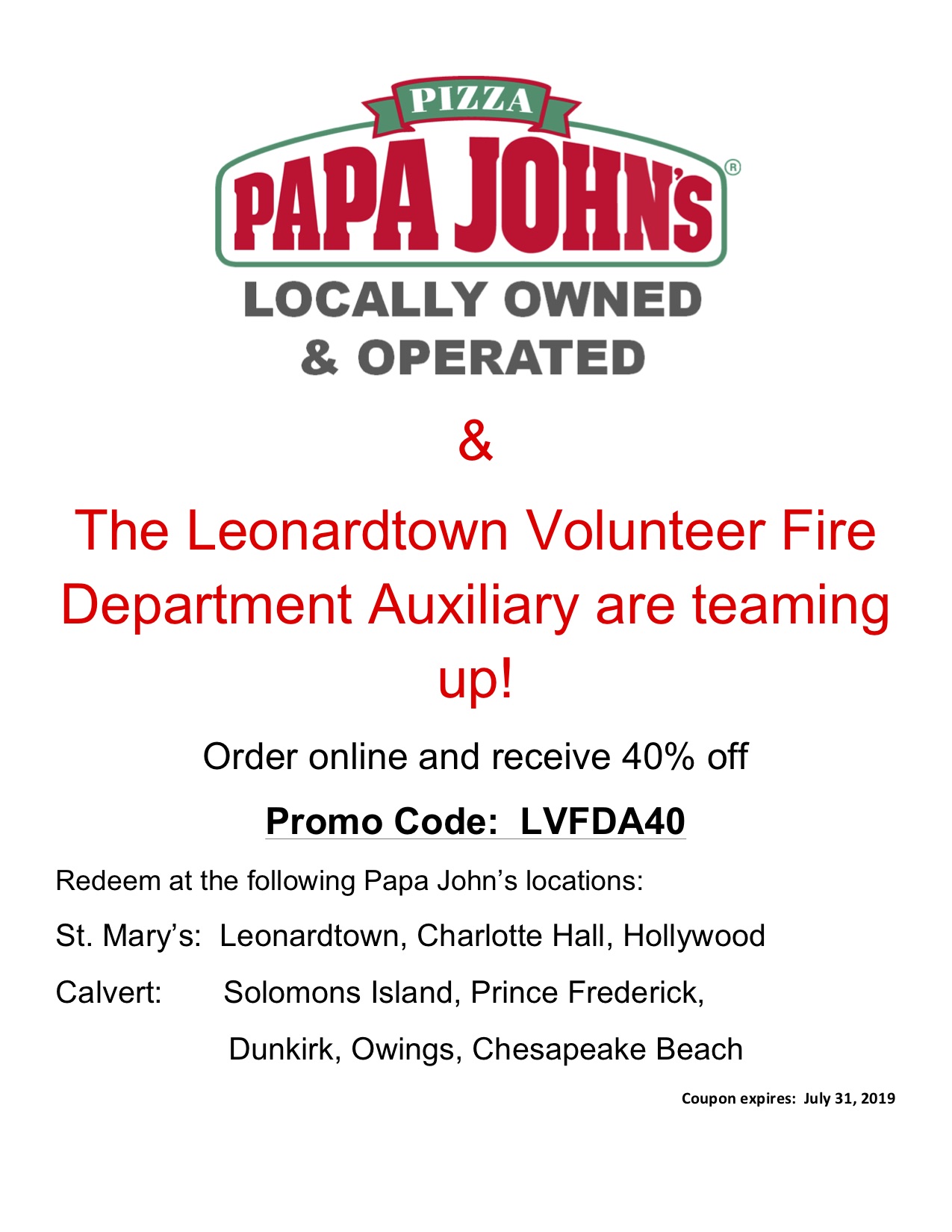 First Due Commercial Building Fire

Leonardtown Volunteers, July 01

At 13:25 hours on July 1, 2019 Companies 1, 7, 9, 6, 19, and 79 were dispatched to 22715 Duke Street for the commercial building fire. The structure in question was diagonally behind LVFD's quarters and the initial call came from Chief 1B (Trossbach). He immediately confirmed a working fire.

Engine 11 responded shortly after and laid a supply hoseline from the intersection of Duke St. and Barthelme ... (Full Story & Photos)



Fire throughout the structure.

Commercial Vehicle Fire

LVFD, January 14

On Monday January 14th at 01:56 hours, Tanker 14 and Squad 1 were alerted to 20475 Point Lookout Road (APE Construction) for the reported Structure Fire. First arriving units arrived advising 3 tractor trailers well off. Tanker 14 arrived and established the water supply for the initial Engine company. Crews from Tanker 14 and Squad 1 operated with other units on the scene to control four pieces ... (Full Story & Photos)

Rescue Squad And Truck Respond To Tractor Trailer Into A Residence

Leonardtown Volunteers, February 24

At approximately 0610 hours, Rescue Squad 1 was alerted mutual aide to Company 5 for an MVA with a vehicle into a structure. Rescue Squad 1 responded with 6 personnel. While en route, Chief 5A arrived on the scene to find a tractor trailer into a residence with the driver and occupants trapped inside the structure. Chief 5 requested the collapse assignment which brought Truck 1, Rescue Squad 7, Truck ... (Full Story & Photos)


Squad 1 Assist in the 7th

Lieutenant John (JW) Wathen, December 04

On Monday December 4th at 1720 hours, Company 5, Squad 5, Squad 1, EMS Companies 59, 19, 29 and ALS were alerted for a reported serious motor vehicle accident at the intersection of Colton Point Road at Hurry Road. Communications Initially received reports of a vehicle and tractor trailer with one overturned. Chief 5 arrived to find a pick up truck pulling a trailer and another truck involved. A member ... (Full Story & Photos)


Early Morning Extrication In The 1-07 Box

Leonardtown Volunteers, December 03

At 0152 hours on Sunday December 3rd Company 1, Squad 5, EMS companies 19, 59 and the Medic Unit were dispatched to Bayside Rd. in the area of Bluegrass Ln. for a report of a vehicle into a tree with one occupant unconscious. Squad 1 responded with 6 personnel shortly after dispatch. Reports while en route were that there was one person confirmed to be trapped and unconscious. With a member of Company ... (Full Story & Photos)

St. Mary's County Guidelines for Posting Emergency 911 Address Numbers